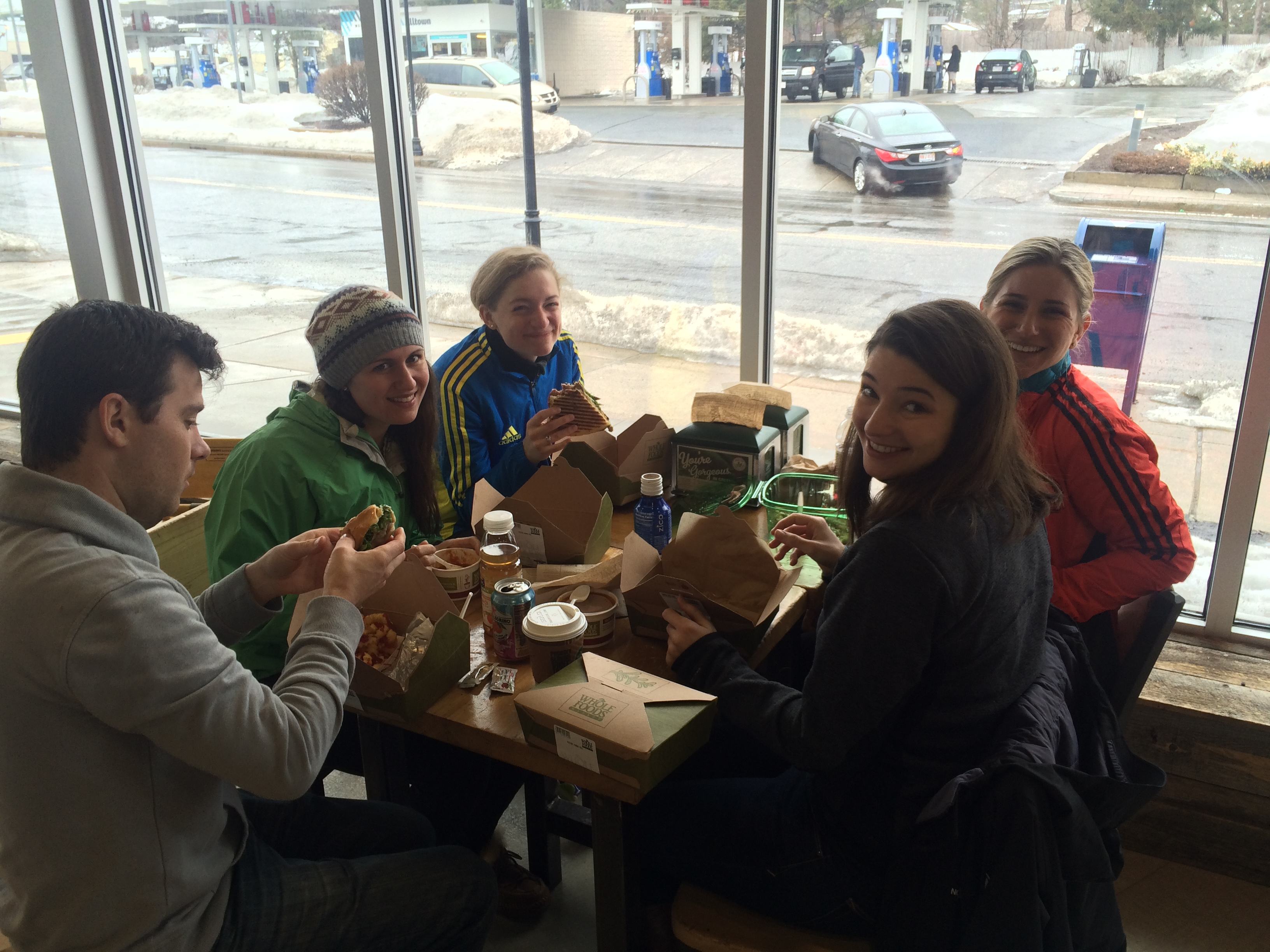 LONG RUN | MAR 14 | Rocked by a Puddle
March 14, 2015
Rocked by a Puddle. Respecting Grossman's Hill. Rainy Day Running.
Miles: 16
Song in my head: Go Getta by Young Jeezy ft R. Kelly
Brunch Food Motivation: Warm things
My carpool buddy Tim pulled up alongside my apartment at 7:40am ready to take on the day. With a playlist by Murph pumping, and Katy Perry's Brave coming through the speakers, we trekked out to a new road. Finally! A run not at Boston College. This route started from the 16 mile mark of the Boston Marathon in Wellesley and wended its way back onto Commonwealth Ave where we've spent part of our previous training runs. The real kicker on this route is Grossman's Hill. Grossman's Hill is .5 miles of straight incline. It's great fun going down it, but a heck of a challenge making it to the top. Katelyn told us on the way up, "I'm going to show Grossman's some respect." Well played, Katelyn, well played. We respected the -ish out of Grossman's. Then we got hit with a different kind of surprise.
We had put 12 miles behind us and rocked up Grossman's Hill, finagling through the speckles of raindrops coming down. It was the type of rain that sprinkles down incessantly until you don't realize you're soaked to the bone. Then a car came alongside. If only there was a stop-motion photo of our faces being splashed by the water. I'm talking a huge puddle and hit with enough force that it spanned the length of four runners. If we weren't sopping wet before, this secured it. It was actually pretty funny. It seemed to be in slow motion as the wave of dirty street water hit us like a tidal wave as all four of us let out tiny screams. I mean what are you going to do? We just (semi) laughed it off and kept on trucking to hammer out the last four miles. While we don't have photo evidence, I think it looked a little something like this.
I always liked running in the rain. Admittedly, this run was a little chilly for my taste (27 degrees and wet is not a great combo). But I've always felt that running in the rain was freeing, untethered. It mixes things up and it's just a way of letting everything go…splash in a few puddles, get rocked by a couple cars…you can't control the conditions around you. So why not play around in it? The icy patches made for a tricky obstacle course but simultaneously made the miles fly by.
The only thing playing in my mind was Go Getta by Young Jeezy. No explanation needed.
At the end of the route, the refuge of the Boston Sports Club (BSC) was awaiting us to change into drier apparel. And the best part of a long run is most definitely earning some solid brunch time with this crew. Paninis all around.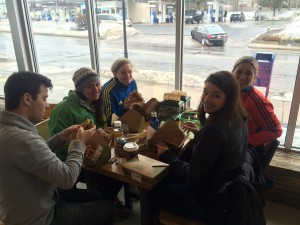 Home called for an ice bath to keep the hamstrings happy and chilling in some bright tights to keep me warm on this grey day. I also just want to say THANK YOU to everyone because we have hit the $2,000 fundraising mark!! You are all so amazing and keep me motivated on days like today! http://runDFMC.org/2015/elisek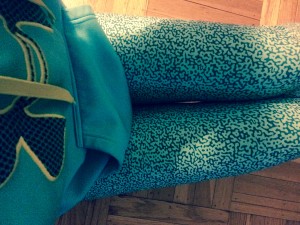 Bright tights and happy trails,
Elise
You May Also Like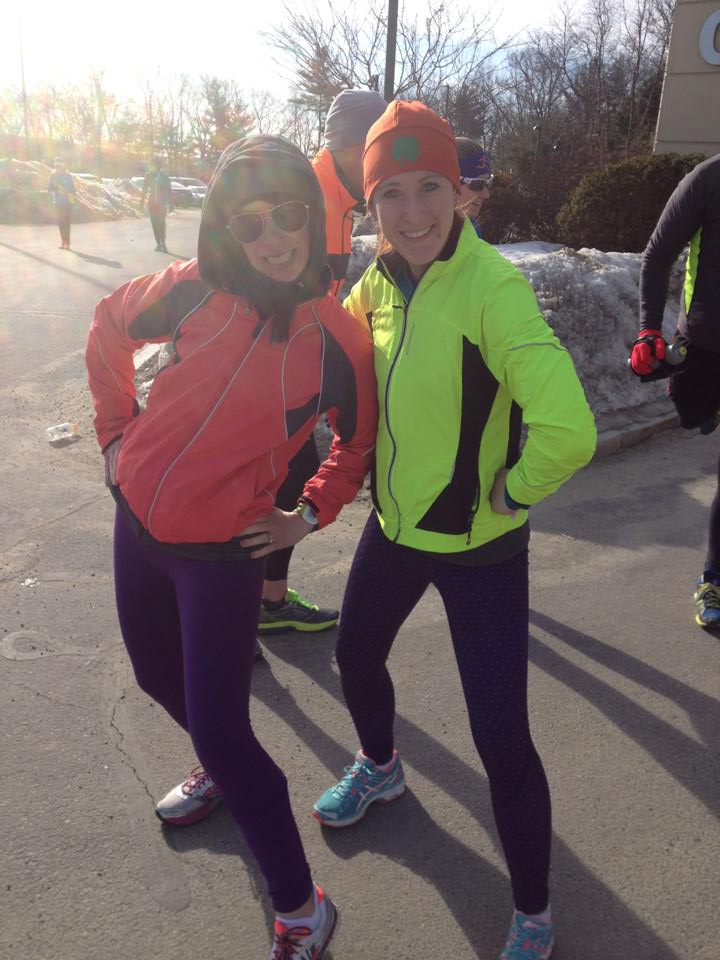 March 7, 2014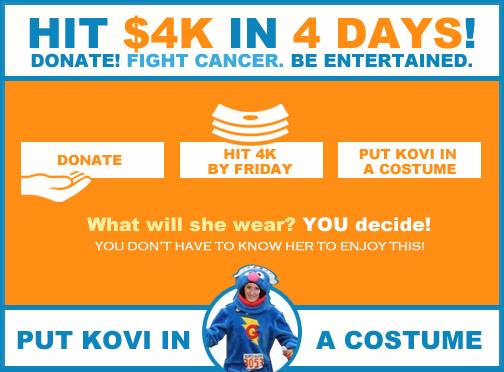 April 3, 2014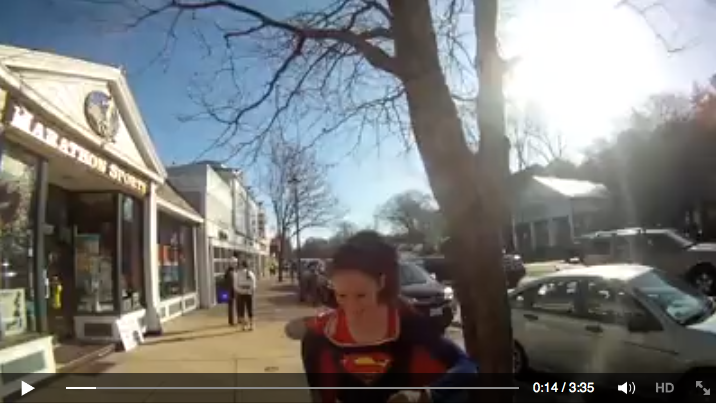 January 4, 2015