THE LONGEST RUN | Mar 28 | Here's Good
April 2, 2015
The Longest Run. PRPs. And Taper Time.
Miles: 20
Song in my head: Break Free by Ariana Grande because I can't get enough of that kid
Brunch food motivation: Eggs. Of the homemade kind.
This is my favorite training run. Runners from all clubs and charity teams come out to prepare for the last long run before the marathon. No other city would shut down an entire lane of traffic for a training run just to accommodate the hundreds of runners. Cones were set up along the marathon route. Buses of runners were taken to Hopkinton simulating race day and vans of people set up water stops and cheering sections along the route to support the runners. Even in the snow they were there. One group had cheering signs. One sign read, "Channing Tatum is up ahead." (True or not, that definitely gave me a little boost.)
The story behind the PRPs (pre-run pants). On race day of last year, it was the first time we were not allowed to bring bags to the starting line. Because we bus to the start at 5am and don't race until 11am, we would usually have warmups and a bag to store them. Then the buses would bring them back down to the finish line. With the new policies last year, however, anything that came to Hopkinton, stayed at Hopkinton, unless we wanted to carry it with us. To lighten the mood, my main man Shifter put forth the challenge of finding the ugliest pre-run pants a runner can own.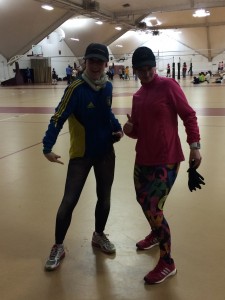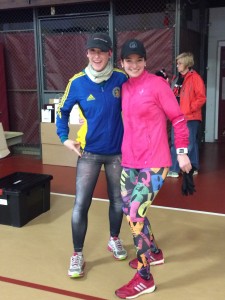 Obviously Meesh and I were all over that gauntlet. We hit up the Buffalo Exchange and found these gems. Without question, they secured us first place in the ugly pre-run pants contest. Meesh was able to somehow cleverly save our prized possessions, and we thought it was only fitting to wear them on our final longest training run of this season. Granted they weren't really made for running 20 miles, but you can't go wrong with faux denim and 80's print neon letters. Or so I've been told.
There was a smorgasbord of brightly patterned tights everywhere I looked, making me beyond envious. Runners dressed as rabbits, bunnies and a carrot with a sign reading, "Best By Date of 4/20/15 (marathon day)" emblazoned on his chest braved the wet falling snow. Never mind that it was the end of March. Mother Nature wanted us to know she was Queen Bee and she didn't give a you know what. This is how I imagine she was this season. Spring? Nah. More snow!
Meesh and I decided to do 20. And you know what? I felt like I could go another 6.2.
I'll let you in on another little secret. We don't just think about brunch on the run. While that does help to motivate, we also talk about and recreate NFL Bad Lip Reading. Some great Youtube videos quoted on runs have gotten me through those miles (also through some ice baths).
At the last water stop at mile 10, Meesh and I looked at each and said, "Here's good." And we turned around to complete our out-and-back. On the last stretch we may have lingered a little longer than we're supposed to at the Team Matty water stop. I just can't get enough of the energy from that crew. We saw familiar faces from team members from last year, greeting us with Gu, giant hugs, and #selfieswithChristy. At the water stop this year was a couple jars where you could pick up a pun from Murph or an inspirational quote from a Jar of Joy I've been adding to sporadically this season.
When I made it home, I whipped up some eggs and chocolate milk. and tucked myself in for a long nap.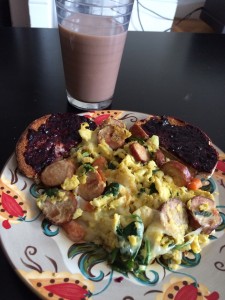 Just before I was drifting off to sleep, I was checking Facebook and found this post from Christy Ciccariello.
"Surround yourself with the dreamers and the doers, the believers and thinkers, but most of all, surround yourself with those who see the greatness within you, even when you don't see it yourself."

— Edmund Lee
This training season has been tough. We hit a record-breaking winter in Boston. We've laced up when all I've wanted to do was snuggle in. We've made snowy days into high-five central. We got hit by a puddle of street water. We've nursed our injuries and we've covered miles in snow and below zero weather and done 16 miles on an indoor track. But surrounding myself with not just the people I run with, but the people across the country giving me calls full of virtual high fives and encouragement, have been beyond important. I've said it before and I'm restating it now, because it really has been those emails letting me know we hit another fundraising goal and those calls of excitement that have gotten me through this long run, reminding me it's all going to shake out okay despite all of the setbacks, and that I have a pretty kickass friend group. Less than 3 weeks to go before marathon day. Banners are up. The roads are being repaved. And anticipation is in the air.
And you know what that means…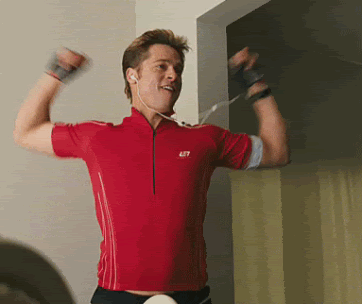 Bright tights and happy trails,
Elise
*Some people have asked me what taper time means. It means we decrease in mileage each week before the marathon. Basically, we run less and less each week and want to eat all of the food in the pantry.
You May Also Like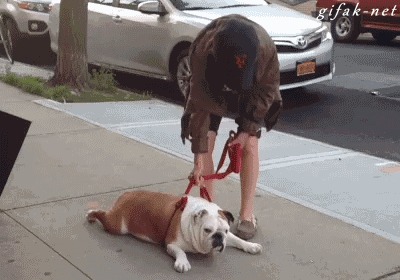 April 14, 2014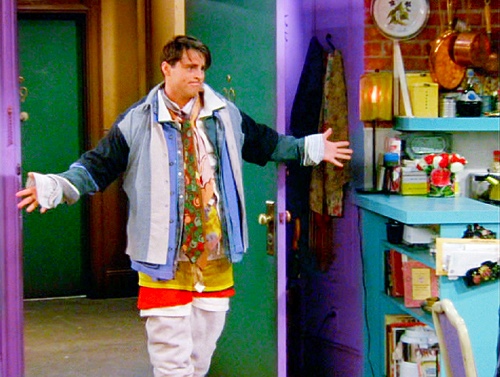 January 12, 2015